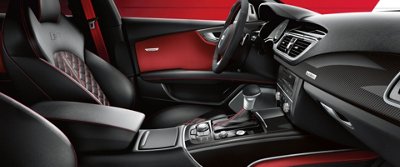 Truth in exclusivity. Choosing an automobile is a revealing statement of self, and Audi exclusive offers many different ways to experience the joy of owning an Audi that is truly unmistakable. And exclusive.
Custom build program
An Audi exclusive custom vehicle includes choosing from 16 different leather and stitching combinations, with seven different inlays. The interior complements virtually any exterior color you choose.
Limited editions
Our design teams dedicate countless hours to developing limited edition vehicles and configuration options worthy of the Audi exclusive badge.
Audi exclusive line
With Audi exclusive line vehicles, we take the reins and create a select collection of option packages that fuse your sense of adventure with Audi exclusive upholstery, color stitching, inlays and more.
Frequently asked questions
Get details on choosing an Audi exclusive limited edition model, finding exclusive line models that fit your taste, or ordering your own exclusive experience.
SUVs, crossovers and wagons